Just before I left my home on the morning of May 31, 2021 my 14-year-old son asked me to comb his hair. I was heading out to go shopping with my friend, so I said I'd do it when I got back.
In the evening, on my way back to our home in Birmingham, England, I rang my son's phone. I said, "Dea-John, do you still want your hair combed?" and he said yes. He said he would be back in 40 minutes. But he never made it home.
My son was chased by a group of white boys and men that evening. They said racist things to him, calling him a "Black bastard" and the N-word. My son ran as they chased him but eventually, as he had asthma, he had to stop. That's when a 15-year-old boy stabbed him.
My child went just like that. And now, the boy who killed him might only serve two years in prison. It pains my heart, I still can't believe what happened.
Dea-John was loved by everyone and we had a fantastic relationship. He was a very kind, jovial and loving person. After he passed, a lady told me that Dea-John always helped her carry her bag when she came back from the market. When she saw the news of his death on the television, she couldn't believe it was my son. He was very helpful and he had good manners—he would not pass you without saying hello.
Dea-John was so talented, too. He wanted to be a dentist or a footballer when he grew up. He had big plans and now he will never get to see them through.
On the night that Dea-John died, I kept ringing his phone because he had said he would only be 40 minutes, but that time had already passed. I couldn't get any answer, but then my friend rang me to tell me that my son had been attacked. By the time I got to where he was, my son had died.
They had cordoned off the place and I saw a blue tent. The police said I couldn't go over there to see my son. The next time I got to see him was when he was in the mortuary.
I know exactly what happened to Dea-John because the police put together 3,000 pieces of CCTV footage, which I watched before the trial.
When I watched the footage, the only thing that came to my mind was that there was no-one there to help my son. He was on his own, with five people chasing him—one wearing a balaclava, with a kitchen knife in his hand. Even now, I sometimes go on my phone and watch that video because I can't believe I wasn't there to help him.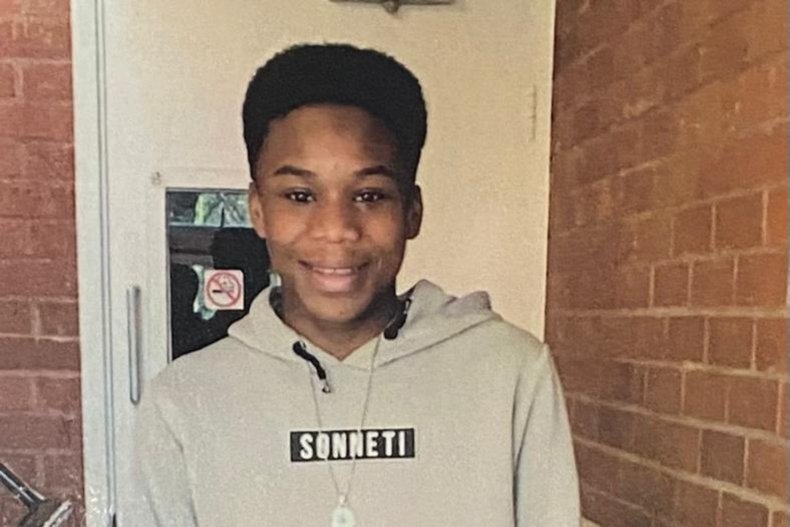 I went to court in February 2022, thinking I was going to get justice. The CCTV footage was shown in court. It was clear that Dea-John didn't touch any of them, he was just out with his friend, on his way home, and they killed him.
I expected the boy who stabbed him to be found guilty of murder, and some of the men who chased him to be convicted of manslaughter. I went to court for six weeks straight and up until the last 90 minutes I was waiting for this verdict.
But the jury said that this was not murder. They found the boy guilty of manslaughter and the others were acquitted—they got off with nothing. The boy was sentenced to six-and-a-half years, which means he will probably be back on the streets in two years.
I was shocked by the verdict and I got up and walked out of the courtroom. If this is not a murder, what is a murder?
To me, it seems like Dea-John's life didn't matter to them. But if my son had killed that young boy, I believe he would have gone down for murder because he is Black. In my eyes, they send Black people down for murder but they send white people down for manslaughter.
There were 11 white people on the jury, and one Asian person, passing a verdict on five white people. So what did I expect? I believe if it was a mixed jury, it wouldn't have gone down like this.
That's why I'm campaigning for Black jurors to be present on trials where victims are Black. This campaign is very important to me. I need justice. I need something to come out of this, so my son's name can live on. I don't want to see another mom go through the pain that I'm going through.
Even now, I still can't believe my son has passed. I know I identified him, I know I buried him, I know I went to the cemetery, but I still can't believe that I lost Dea-John.
Every evening when I come from work, I look out for him to come home from school. In our last conversation, he had said he would be home in 40 minutes, and it's like those 40 minutes haven't passed in my mind. I'm still waiting for him to come home.
Joan Morris lives in Birmingham, England. She is leading the Justice 4 Dea-John Reid campaign.
All views expressed in this article are the author's own.
As told to Katie Russell.