A Texas sheriff's office opened an investigation after a video posted to social media showed a deputy pinning an 18-year-old to the ground and then arresting her mother.
The deputy was placed on administrative leave pending an internal affairs investigation into the Tuesday incident, which is a standard protocol, the Kaufman County Sheriff's Office said in a press release.
The Facebook video shows Kaufman County Deputy Martin pinning the teen, who is Black, on the ground. She is on her back and is crying. Her mother asks the deputy to get off her, the video shows.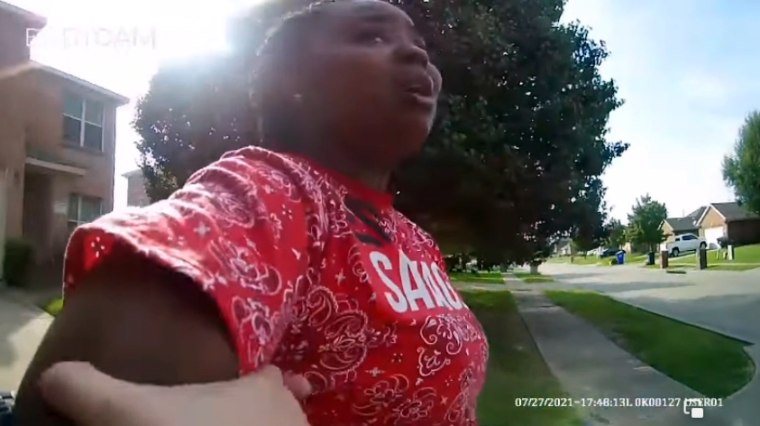 "You can get up. You don't have to do her like this," the woman says as she grabs her daughter's hand to console her.
The deputy says he cannot get up because the teen had attempted suicide.
A second deputy arrives and turns her over onto her stomach so she can be placed in handcuffs. The situation escalates as the deputies help the teen stand and begin walking her toward a sheriff's vehicle.
The video shows the mother accusing Deputy Martin of failing to record the incident and asking the deputies to loosen the handcuffs. Deputy Martin is seen in the video taking the mother to the ground and arresting her.
The Facebook video doesn't show what led to the mother's arrest. The sheriff's office said in its press release that the mother, Antanique Ray, pulled on her daughter's arm and Deputy Martin told her not to touch the teen. Ray then "struck Deputy Martin," according to the sheriff's office.
Ray was taken to the county jail on charges of assault on a public servant and interference with public duties, the sheriff's office said. She has since been released. It's not clear if she has obtained an attorney.
The teen, identified by Ray as Nekia Trigg, was taken to a mental health facility for evaluation, according to authorities.
The sheriff's office said the incident began with the department receiving "multiple calls about a female attempting suicide." The department released audio from a 911 call in which a concerned woman reported the incident.
Authorities said Deputy Martin responded and found the teen crying and walking barefoot down the sidewalk.
In body-camera video released by the sheriff's office, the deputy is heard asking Trigg why she's upset. She tells him that she's OK and continues walking. Deputy Martin asks her to talk to him but she says she doesn't want to engage.
The deputy is seen grabbing Trigg's arm and tells her she needs to stay, the video shows. "OK," she says through tears. "Why are you hurting me?"
Trigg asks the deputy twice if she can call her mother and expresses concern that the deputy is going to hurt her.